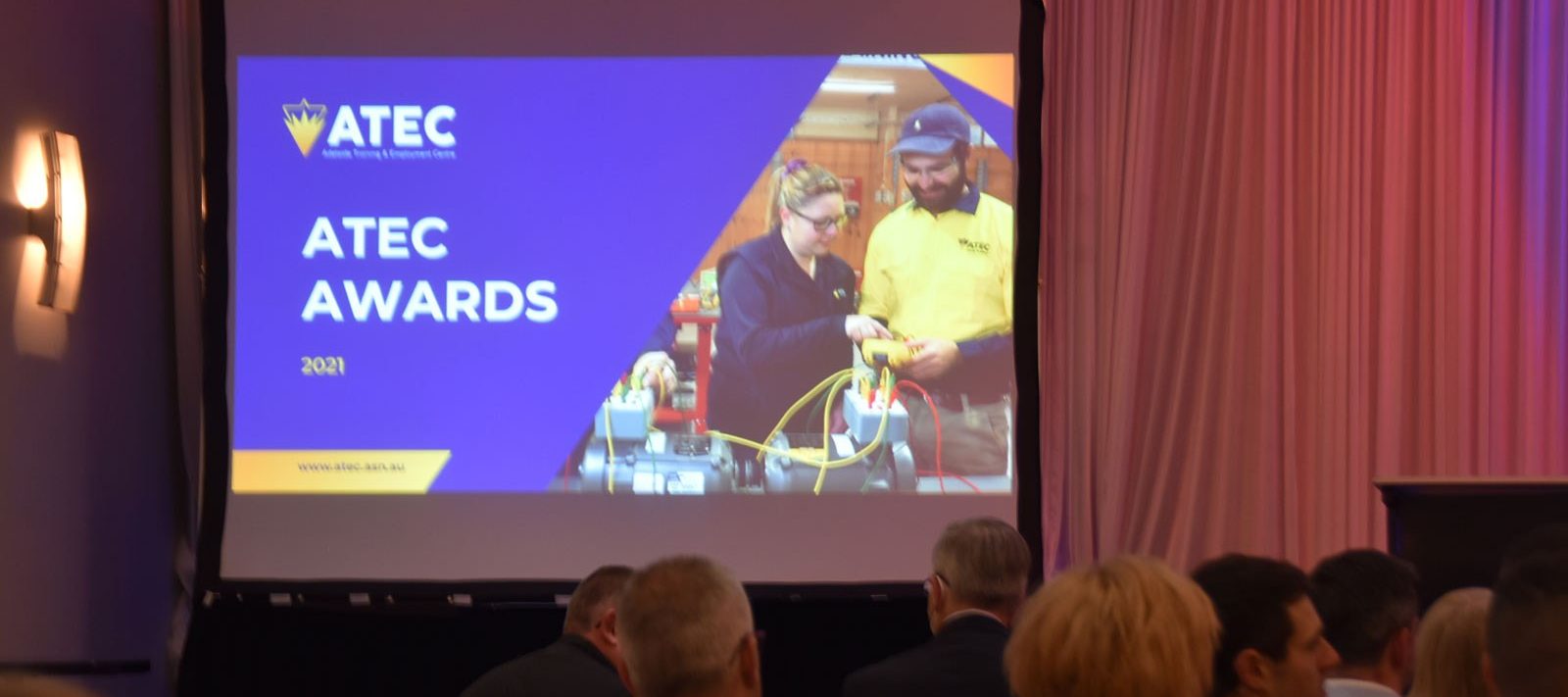 Posted on May 30, 2022
2021 Awards
Thanks to everyone who attended the ATEC Awards for 2021.
The ceremony was attended by a number of apprentices and industry professional, including The Honourable Blair Boyer MP. The awards are a way for us to recognise the achievements of our apprentices and their hard work. Special thanks to Tiahna Silvy-Williams for the 'Welcome to Country' and Damian Staltari from D-Stal Electrical Pty Ltd for his words of wisdom as our guest speaker.
Congratulations to all the winners and finalists;
CITB South Australia School VET Student of the Year Award
Winner: Harrison Caruso
Finalists: AJ Krause, Zachary Kemperman and Jackson Sard
Safetyworx School Based Apprentice of the Year
Winner: Jaxon Wallace
Finalists: Austin Gilmour, Saxon Rogers
Konica Minolta Australia Regional Apprentice of the Year
Winner: Joshua Horgan
Finalists: Laighton Virgo
Southern Cross Industrial Supplies - Adelaide Welder of the Year
Winner: Steven Black
Finalists: Alex Fergusson
AMWU - Australian Manufacturing Workers' Union and ATEC Achiever Award
Winners: Luca Morelli and Vicki Belsak
NN Occupational Health Community Services Award
Winner: Efren Ramirez
WebSafety Electrical Services Award
Winner: Adam Rossi
Finalists: Tim McFarland, Jaxon Wallace, Joshua Armstrong, Charles Riggs, Aidan Ponton and Trent Carter
B&R Enclosures Sam Mezzino Memorial Engineering Fabrication Award
Winner: Alannah Wildman
Finalists: Declan Combe, Wyatt Innes, Luke Thomson and Renee Mc Donald
ATEC Group Training Engineering Mechanical Award
Winner: Bryce Johnstone
Finalists: Chris Grantham, Liam Ellis and Jarrod Smythe
Housing Industry Association - HIA Carpentry Award
Winner: Joseph Zampaglione
Finalists: Matthew Neagle, James Khera, Michael Hirschfeld, Jack Richardson, Hugo Kregar and Charles Yelland
MEGT Australia Best 1st Year Apprentice of the Year Award
Winner: Matthew Neagle
MEGT Australia Best 2nd Year Apprentice of the Year Award
Winner: Tim McFarland
MEGT Australia Best 3nd Year Apprentice of the Year Award
Winner: Chris Grantham
ATEC Gary Brookes Memorial Apprentice of the Year
Winner: Adam Rossi
Thank you to all of our award sponsors and host employers - we couldn't do it without you!
We had a great time and can't wait to do it all again next year!
Get the latest announcements and up-to-date information from ATEC
View all news
---
Do you have a question about any of the information here?
Make an Enquiry